Godwin HL Series
13 Products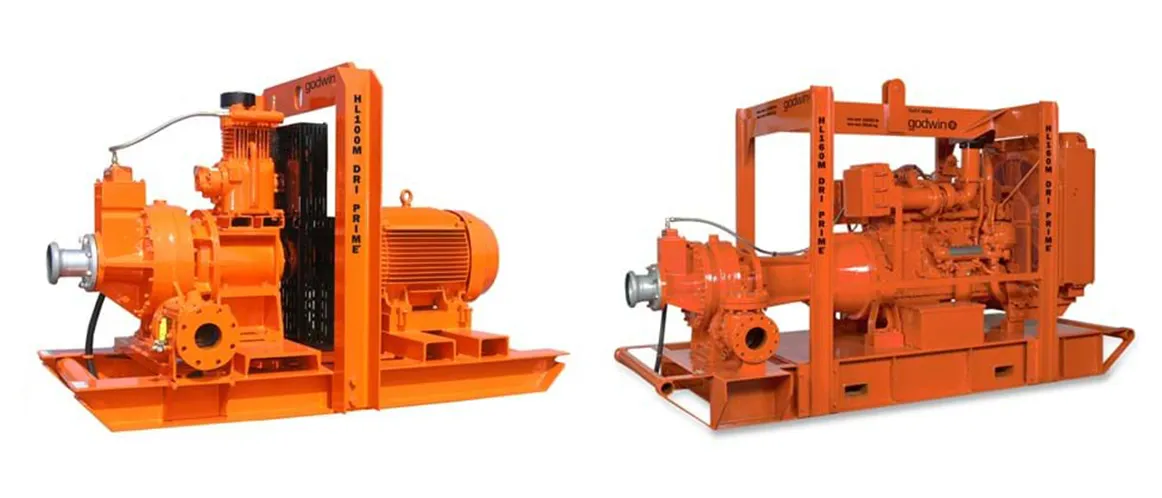 As a Xylem / Godwin Distributor we have added to our range the HL Series of automatic Dri-Prime pumping solutions. HL Series offers high-head and jetting pumps with solids-handling capabilities and single stage impeller design. Flow ranges from 107 to 1,200 m³/h. Head through the models can reach from between 100 to 160 meters. Extreme high head pumps are also available within' HL Series. HL Series pumps are available with Perkins, Caterpillar, Hatz, JCB and Deutz engines.
For reliability, durability and excellent performance Xylem / Godwin have the pumping solution for you. Stuart Pumps have developed a 2 or 4 wheeled trailer which will enable manoeuvrability adaption to the pump for additional cost.*
Typical Applications
Ground water control, Mine dewatering, Wellpoint dewatering, Industrial sludge pumping, Tank sediment cleaning, Flood relief, Emergency service pumping, Pipe relining, Marine ballasting, Sewage over-pumping
*Weight restrictions may apply.
Downloadable Documents
Godwin Dri-Prime Brochure
---
| Model/Part | Suction | Discharge | Solids Handling | Engine | Tier | dB(A) @7m | Price | |
| --- | --- | --- | --- | --- | --- | --- | --- | --- |
| HL250M | 300 mm | 250 mm | 65 mm | Scania DC13 T5 | V | 64 | | View |
| HL130M | 150 mm | 150 mm | 22 mm | JCB444 T4i-93 | N/A | 70 | | View |
| HL160M | 200 mm | 150 mm | 35 mm | Scania DC13 T4 | N/A | 64 | | View |
| HL260M | 250 mm | 200 mm | 50 mm | Volvo TAD1643VE | N/A | N/A | | View |
| HL80M | 100 mm | 80 mm | 25 mm | KOHLER KDI2504M | IV | 65 | | View |
| HL80M | 100 mm | 80 mm | 25 mm | JCB444 55kW | IV | 65 | | View |
| HL100M | 100 mm | 100 mm | 35 mm | JCB444 T4i-68 | IV | 66 | | View |
| HL125M | 150 mm | 100 mm | 35 mm | JCB444 T4i-93 | IV | 68 | | View |
| HL150M | 150 mm | 150 mm | 35 mm | JCB444 T4i-93 | IV | 71 | | View |
| HL200M | 200 mm | 150 mm | 38 mm | Scania DC09 T5 | V | 70 | | View |
| HL225M | 250 mm | 200 mm | 65 mm | Scania DC13 T5 | V | 64 | | View |
| HL110M | 100 mm | 80 mm | 20 mm | JCB444 T4i-93 | IV | 68 | | View |
| HL270M | 300 mm | 250 mm | 30 mm | CAT C27 | V | 110 | | View |